Arteola pulls up to Delano's Wharf, 1908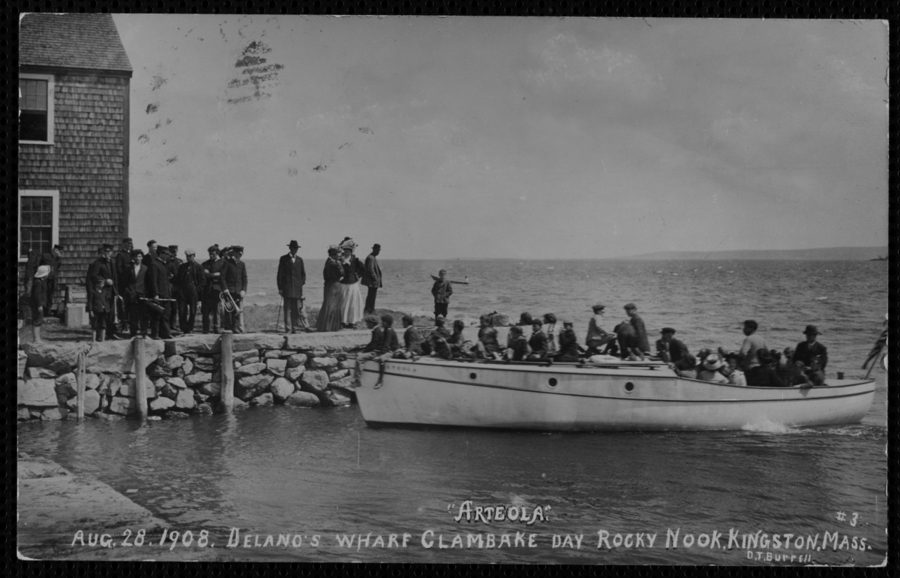 Title
Arteola pulls up to Delano's Wharf, 1908
Subject
Old Home Day
Delano's Wharf
Boats
Spectators
Kingston Bay
Piers & wharves
Description
The vessel Arteola approaches the south side of Delano's Wharf, ferrying at least 20 adults and children to the Old Home Day festivities. More people stand on the wharl, including a band holding their instruments. The caption printed on the front of the postcard and the message on the back are transcribed below.
[Caption] "Arteola" Aug. 28, 1908, Delano Wharf Clambake Day Rock Nook Kingston Mass #3 D. T. Burrell. [Message] Scene from old home day; thought you would like them. why don't you write. This is Charlie Drew's boat. Mame.[Addressee] Mrs. Leslie Ward, 48 Robinson St. Dorchester, Mass.[Postmarked] Kingston, Mass Sep 11 8 AM 1908
Publisher
Kingston Public Library, Local History Rooom
Contributor
Scanned by the Boston Public Library.
Is Part Of
Delano Photograph Collection IC-11
Identifier
eve-98-0007-de
Spatial Coverage
Rocky Nook
Kingston (Mass.)
Temporal Coverage
1900-1909
Original Format
Photographic postcards
Physical Dimensions
3.5 x 5.5 in.
Collection
Citation
D. T. Burrell, "Arteola pulls up to Delano's Wharf, 1908,"
Local History Collections from the Kingston Public Library
, accessed February 6, 2023,
https://kplma.org/om/items/show/2540
.