Delano's Wharf at Rocky Nook, Old Home Day, 1908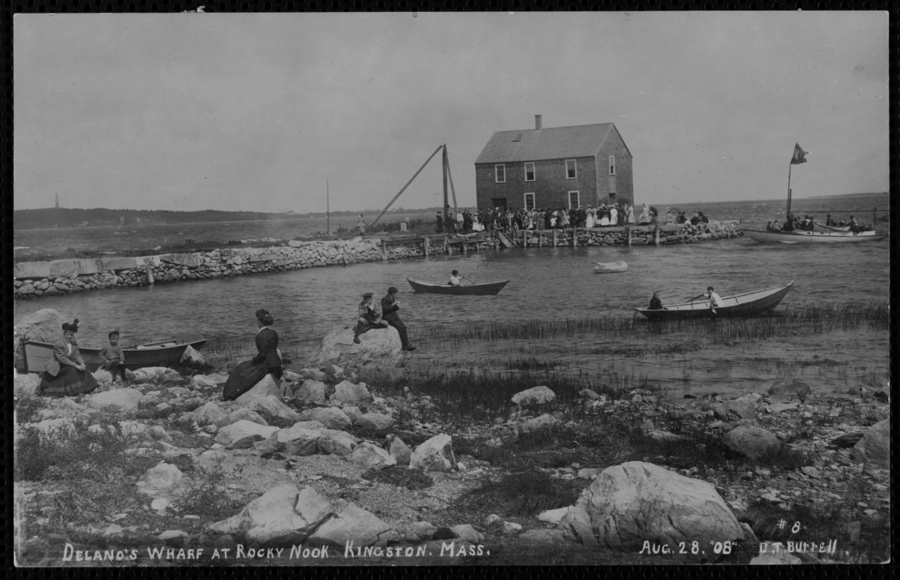 Title
Delano's Wharf at Rocky Nook, Old Home Day, 1908
Subject
Boats
Piers & wharves
Spectators
Waterfront
Kingston Bay
Old Home Day
Description
On Old Home Day in 1908, a sailboat loaded with passengers, its mast stepped and a Kingston Yacht Club flag aloft, approaches Delano's Wharf, which is lined with people. Several boys row dories in the waters between the shore and the wharf, while a few women and children perch on rocks on along the beach. The caption printed on the front of the postcard is transcribed below; the postcard bears no message or postmark.
Delano's Wharf at Rocky Nook, Kingston, Mass. Aug. 28 '08' #8 D.T. Burrell
Publisher
Kingston Public Library, Local History Rooom
Contributor
Scanned by the Boston Public Library.
Is Part Of
Delano Photograph Collection IC-11
Identifier
eve-98-0008-de
Spatial Coverage
Rocky Nook
Kingston (Mass.)
Temporal Coverage
1900-1909
Original Format
Photographic postcards
Physical Dimensions
3.5 x 5.5 in.
Collection
Citation
D. T. Burrell, "Delano's Wharf at Rocky Nook, Old Home Day, 1908,"
Local History Collections from the Kingston Public Library
, accessed February 6, 2023,
https://kplma.org/om/items/show/2541
.