Perambulation of the bounds between Kingston & Pembroke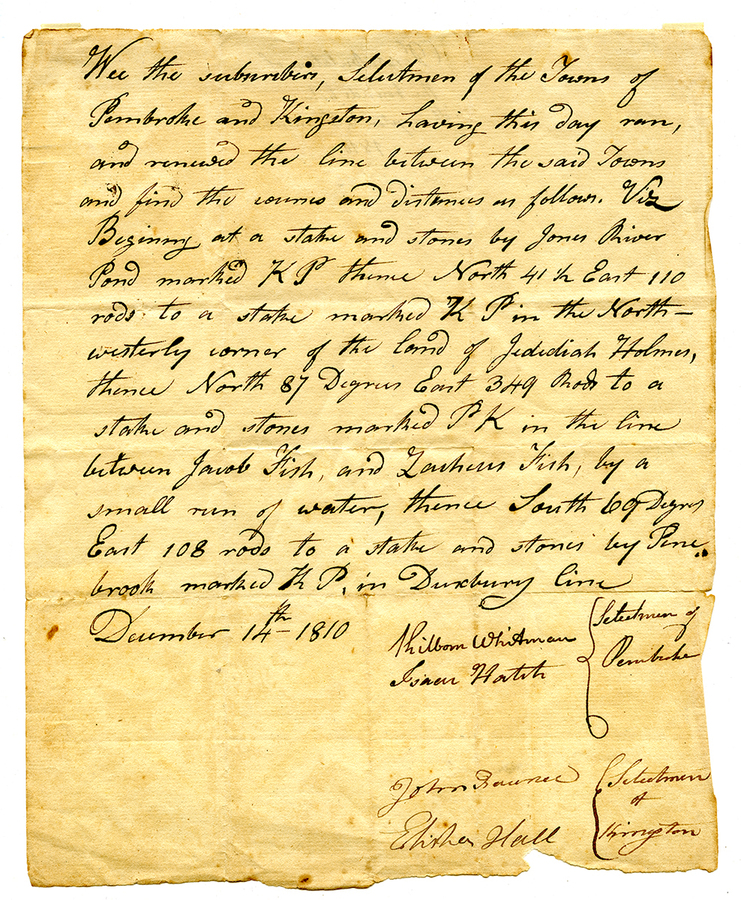 Title
Perambulation of the bounds between Kingston & Pembroke
Subject
Selectmen from both towns walk the boundary between them.
Creator
Kingston Board of Selectmen; Pembroke Board of Selectmen
References
Extent
1 item : manuscript, autograph
Identifier
doc-21-0001-tok4
Text
We the subscribers, Selectmen of the Towns of Pembroke and Kingston, having this day run and reviewed the line between the said Towns and find the corners and distances as follows. Viz

Beginning at a stake and stone by the Jones River Pond [Silver Lake] marked KP thence North 41 1/2 East 110 rods to a stake marked KP in the North-westerly corner of the land of Jedidiah Holmes, thence North 87 Degrees East 349 Rods to a stake and stones marked PK in the line between Jacob Fish and Zachary Fish, by a small run of water, thence South 69 Degrees East 108 rods to a stake and stones by Pine Brook marked KP in Duxbury line

December 14th 1810
Kilborn Whitman, [?] Hatch, Selectmen of Pembroke
John Faunces, Elisha Hall, Selectmen of Kingston
Citation
Kingston Board of Selectmen; Pembroke Board of Selectmen, "Perambulation of the bounds between Kingston & Pembroke,"
Local History Collections from the Kingston Public Library
, accessed February 6, 2023,
https://kplma.org/om/items/show/2549
.
Geolocation